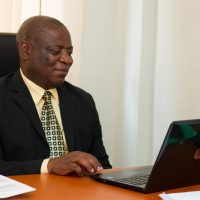 Dr. Alex Kojo Eyiah
Coordinator , Department of Built Environment
About Me:
I have taught as an adjunct and a full-time lecturer in both undergraduate and graduate levels in Ghana and the United Kingdom.
I supervise students' theses at both levels in disciplines including project delivery, supply chain management, finance, marketing and Health and Safety.
I have been an External Examiner for the graduate school Kwame Nkrumah University of Science and Technology.
I have published in refereed journals and contributed to international conferences.
I have worked as a research assistant, a project analyst and a managing director for a group of companies.
Qualifications:
PhD in Development Policy and Management (Construction Concentration), The University of Manchester (2004), U.K
MSc. in Project Management in Construction, UMIST (1997), Manchester, U.K
BSc. Building Technology, KNUST, Kumasi, Ghana
Professional Memberships and Activities:
Chartered Institute of Building (CIOB)
Ghana Institution of Construction (GIOC)
Project Management Professional (PMP)
Expertise:
Construction Business Management
Family Business Management
Construction Procurement
Contract Administration
PPP and Project Finance
Research Interests:
Health and Safety in Construction
Construction Firm Growth
SME financing
Financing Infrastructure Project
Selected Publications:
Eyiah, A, Kheni D., Acquah, A. (2018) SME Financing Constraints: Evidence from the Construction Industry in Ghana, International Journal SMEs and Business Sustainability, Vol. 3, No. 2, July.
Acquah, R., Eyiah, A. and Oteng, D. (2018) Acceptance of Building Information Modelling: A Survey of the Construction Industry in Ghana, Journal of Information Technology in Construction. http://www.itcon.org/2018/4
Eyiah, A (2017) An Investigation into the Efficiency of Classification of Construction firms in Ghana, West African Built Environment Research (WABER) Conference, ISSER, Accra, 16-18 August