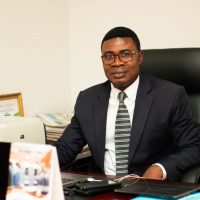 Rev. Paul Danso
Dean of Students
About Me:
I am a Full Time Minister with the Church of Pentecost since 2003. I have been a District Minister at Kofi Pare in Suhum Area (2003-2008); ITI PENSA Travelling Secretary, Eastern Region (2008-2014); Chaplain for Pentecost University College (2014-2016) and the Dean of Students (2016 to date). I am a professional teacher and have been teaching Systematic Theology and Pastoral Care and Counselling.
Qualifications:
Currently pursuing a Master's Degree in Theology (MTh) –Pastoral Care and Counselling from the Trinity Theological Seminary-Legon. I am researching into "Church Discipline and Pastoral Care and Counselling in the Church of Pentecost"
Master of Arts Degree in Theology and Mission from the Akrofi-Christaller Training Institute, Akuapem Akropong (2010).
Bachelor's Degree in Theology from Pentecost University College (2010)
Certificate in Pastoral Studies from Pentecost Bible School (2003)
Bachelor's Degree in Psychology from the University of Cape Coast (2001)
Professional Memberships and Activities:
Member, African Association for Pastoral Studies and Counselling (AAPSC)
Expertise:
I have in-depth knowledge of Pastoral Care and Counselling.
I am also good at teaching and ministering to peoples' lives.
Research Interests:
Pastoral Care and Counselling