Message from the Dean of Graduate School
Prof. Kwame Boasiako Omane-Antwi (DEAN)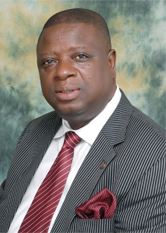 Our core mission is to teach those who wish to learn, learn from those we teach, foster research and original thought, and, through our graduate students and faculty, disseminate knowledge and transmit values of responsible civic and intellectual behaviour.
We are ready to provide a very welcoming and friendly educational community dedicated to the pursuit of excellence in knowledge and integrity aimed at serving the present and future generations of our society. Therefore, PUC Graduate School is a choice any serious, career-oriented student should want to make.
In order to achieve its aims, the Graduate School has put in place plans to support students and faculty in diverse ways, not only to make their stay at the memorable but also to enable them to achieve their individual aims and bring about progress in their specialised field of endeavours. Thus, the School uses multidisciplinary approaches as a key for unearthing, producing and sharing of knowledge, through collaborative faculty and student research activities. This approach is because we believe that the analytical skills and other research skills imparted to students during their stay at the School are very critical for their success in all fields of professional endeavours. Indeed, we are committed to establishing a link between the Graduate School, industry, commerce, and the public sector, thereby guiding and helping students to shape their professional careers in order to impact lives and associated communities.
Please contact us for any further information you may need.
.
KWAME BOASIAKO OMANE-ANTWI; PHD, FCCA; FRSA (UK), MTP (SA)
PROFESSOR OF ACCOUNTING & FINANCE
VICE RECTOR & DEAN – PUC GRADUATE SCHOOL
Support, Administrative and Accounting Staff
NAME
HIGHEST QUALIFICATION
POSITION

Prof. Kwame Boasiako Omane-Antwi

PhD /1989

CA (GH)/1982

FCCA/1983

Dean

Mrs. Denise Anatsui

D. Ed Candidate

MA/1994

Academic Registrar
Mr. Samuel Agyapong
MBA/2010
Faculty Officer
Ms. Doris Aryee
MBA Candidate

PGD/2010

Administrative Assistant
Mr. Chris Ameyaw
MBA/2011
Accounts Manager
Mr. George Asante
MCSE/2010

Cert. in Computing/2008

IT Technician

Mr. Isaac Agyeman

MA Candidate

PGD/2009

BA/2007

Librarian

Front Desk Executive
Driver