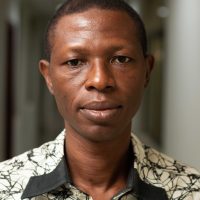 Apostle Christian Tsekpoe
Head, Department of Mission
About Me:
I was called into full-time Pastoral ministry of The Church of Pentecost  (CoP) in 2005 and this gave me the opportunity to also pursue another first degree in BA (Hons) Theology from 2005 to 2008. I further had my MA in Theology and Mission from Akrofi-Christaller Institute of Theology Mission and Culture in 2010. I have since pastored in the following stations: CoP Bedeku district (2008-2010), Pentecost International Worship Centre, Sakumono (2010-2015 and Adenta Estate Worship Centre (2015-2016).
I was appointed as Assistant Lecturer (part-time) at Pentecost University College (2011- 2015). I was given full-time appointment as a lecturer at Pentecost Theological Seminary (2015-2016). I then came back to Pentecost University College as a full-time lecturer from 2016 to date.
I also serve as an adjunct lecturer at the following colleges:
Pentecost Theological Seminary, Gomoah Fetteh, Ghana.
Birmingham Christian College, Selly Oak UK.
Pentecost Theological Institute, Johannesburg, South Africa.
Qualifications:
PhD Candidate: 2013 – date (Oxford Centre for Mission Studies),
MA Theology and Mission: 2010 (Akrofi-Christaller Institute of Theology, Mission and Culture)
BA Theology and Mission: 2008 (Pentecost University College)
Professional Memberships and Activities:
African Pentecostal Scholars Association – Member
Expertise:
Ability to design and teach a range of courses at the undergraduate level. These include Gospel and Culture, Witchdemonology, Pastoral Studies, Leadership development and Pentecostalism.
Ability to contribute to curriculum development, review or enhancement in a manner that supports student learning.
Take part in students' assessment activities and provide appropriate feedback to them.
Supervise students' long essays, providing direction, support and guidance.
Coordinate teaching and learning activities of the undergraduate programmes.
Carry administrative and management functions at the faculty level.
Assist in coordinating continuous professional development of staff.
Research Interests:
Pentecostal Missiology
Witchcraft and Demonology in Africa
Selected Publications:
Tsekpoe Christian. "Towards A Mission Model Suitable for Pentecostal Churches in Ghana: The Case of The Church of Pentecost." (Accepted for Publication in Pentecost Journal of Theology and Mission in 2018).
________. "Pentecostal Christians' Response to Witchcraft and Demonology in Ghana: The Contributions of Apostle Professor Opoku Onyinah to Pentecostal Exorcism in Africa" in Elorm Donkor and Susana Wood (Eds) African Pentecostal Maturing: Essays in Honour of Apostle Opoku Onyinah. (Accepted for publication in August 2018 by Wipf and Stock Publishers, Oregon).
Onyinah Opoku and Tsekpoe Christian. "Towards a Contextual and Effective Engagement of the African Spirit World", (Accepted for Publication in Spiritus: ORU Journal of Theology in 2019)