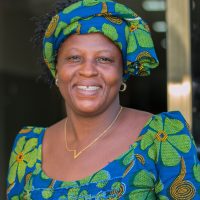 Mrs. Peace Essie Atsu
Assistant Lecturer, French
About Me:
As a very competent and dedicated lecturer of French, I have a great passion for teaching French. Due to my hard work and dedication in my teaching career, to the glory of God, I was once awarded the National Best French Teacher in Ghana in the year 2001.
I have not relaxed in performing my duties adequately. To the glory of God, I won the Best Lecturer (PUC) of the year 2018. As an Academic Counsellor and a Lead Mentor, I always encourage my students to attain greater heights in their academic pursuits.
Qualifications:
MPhil in French, University of Cape Coast
Bachelor in Education (French), University of Education, Winneba.
Professional Memberships and Activities:
Member of Ghana Association of French Teachers (GAFT)
Former Regional Secretary to the Ghana Association of French Teachers, Central Region (2013-2016)
Expertise
I have an in-depth knowledge in Linguistics and Didactics of French.
I am equally good at preparing students for WASSCE French. I prepared them for over 19 years and they recorded 100% in the final examinations.
Research Interests:
Previous Research "Analyse des Erreurs Lexicales des Apprenants de Francais Langue Etrangere (FLE) au Niveau Junior High School (J.H.S.) dans La Metropole de Cape Coast"
Projects to undertake:
Embarking on developing a curriculum for the study of French for FBA and FESAC students as my doctoral research.
Writing and publishing story/textbooks in French soon.